Self-Adhesive Backed Available
Fast Turnaround for Ex-Stock
Next Day Delivery or Same Day Collection
Fireseal™ Class O Foam
We manufacture a comprehensive selection of Fireseal™ fire retardant foams. In addition too, non-burning polyurethane and melamine foams and products. Not only this, all of which meet FMVSS302, UL94 HF1, Class O and FO 36 (Black Pyrosorb, Fireseal™ and Basotect PVC Nitrile) standards. Furthermore, our Class O Foam can be manufactured with a variety of self-adhesive backings, sizes and densities.
Providing for Other Sectors
While the building and automotive sectors form our largest customer base for fire retardant foams. In addition, we supply for a wide range of other sectors, from bedding to industrial machinery and recording studios. However, the potential applications for fire retardant foams are vast. Therefore, there are many products which benefit from being produced with fire retardant foams.
Contact Our Conversion Technical Team
In addition to the point above, the material is normally adhered to the background surface. Furthermore this is done using a separate adhesive or by means of the optional self adhesive backing. Also, contact our technical team for a specification sheet on self-adhesive films for properties and limitations.
Furthermore, Class 0 Foam can be mechanically fixed (using large headed fixings or spreader washers). In addition, our insulation support pins and non-return washers represent a suitable fixing.
Simplifying Installation
In fact, the Class 0 Foam is available with a self-adhesive backing film to simplify installation. Optionally, the product can be supplied with an extensive range of facing materials.
Therefore, in-house cutting service is available for supply to final sizes/shapes, using a variety of processing techniques. In addition, these include die-cutting and CNC cutting. Finally, a full 'kitting' and packing service is available for OEM supply.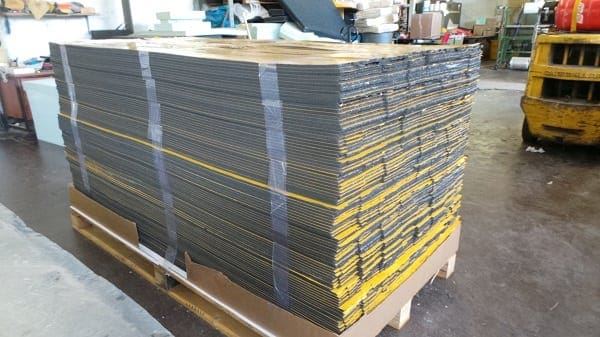 Technical Specification
Colour: Dark Grey
Density (Specific gravity) : >90kg/M3
Fire Propagation Index: <12 (BS476 pt 6)
Surface Spread of Flame: Class "1" ( BS476 pt 7)
Building Regs. 1991 (Fire Safety): Class "0"
Operating Temperature: -30 to 100 C
UL 94 Classification: 94V-0 (UL 94)
Surface Burning Behaviour: Class A (ASTM E84-95)
Air Erosion Resistance (4001 – 60fpm) – Pass (ASTM C1071-91 12.7)
Fungus Resistance Test: Does not support growth (ASTM G 21)
Mildew (Fungus ) Resistance Does not support growth (ASTM D-2020)
Water Vapour Sorption: <9% (ASTM C553-92)
Thermal Conductivity: 0.364 Btu-in./hr-ft2-degree F (ASTM C518-91)
Corrosiveness (galvanised steel): Pass (ASTM C665-95)
Hot Surface Peformance @ 100c 96hr: Pass (ASTM C411-97
Acoustic Performance
(Normal Incidence)

Sound Absorption @ 25mm : NRC > 0.40

(Random Incidence)

Sound Absorption @ 25mm : NRC > 0.50

(Random Incidence)

Sound Absorption @ 50mm : NRC > 0.78
Sizes
Thicknesses available are: 25mm, 50mm (special order alternative thickness and cut to drawing available, please call)
Furthermore, Class O acoustic foams have been widely adopted in the building industry. Specifically, where high performance acoustic foams are required. Especially with superior sound absorbing and non-flammable properties. Also, the exceptional soundproofing properties make it a first choice for reducing noise.
Building and construction
Automotive and transportation
Machinery such as compressors and generators
Recording studios
Furniture
Bedding
Ducting
HVAC linings
Ceiling tiles
Wall panels
Suspended sound absorbers